A Safer Home in the Palm of Your Hand
Set your own custom security modes to suit the needs of your home and family via the eufy Security App.
Suitable for All Sizes
Enhanced long-distance connectivity ensures your entire home is secure at all times—no matter how big it might be.
Adjustable Sensitivity
Tweak the sensitivity of the motion sensor so it alerts you to intruders, rather than your pets.
Power to Protect
With a battery life of 6 months for the keypad and 2 years for the motion and contact sensors, sleep safe knowing your system is always at the ready.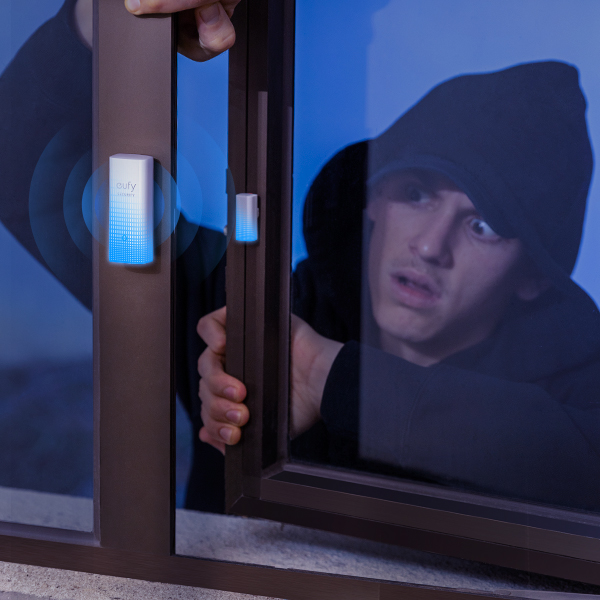 Entry Sensor
Attaches to your windows and doors via the included mounts. Immediately alerts you when a breach is detected.
Motion Sensor
Protect an entire room against uninvited guests. Features 100° coverage at up to 30 feet.
eufy Security 5-Piece Home Alarm Kit

From eufy, where privacy comes first.Comprehensive Safety Solutions for Your Home

Protects You, Your Family, and Your Privacy
Every eufy Security product is engineered to ensure your data is kept private. Keep a secure record of everything that happens around your home.

Security That Lasts
Just one charge will power the entry sensors and motion detector for 2 years, and the keypad for 6 months.

For Houses Great and Small
Whether your house is large, small, or somewhere in-between, every part of the security kit can communicate swiftly and securely with HomeBase thanks to ultra-secure long-distance connectivity. 

Instant Installation 
Setting up your new home security system is a breeze. Simply fix the keypad and motion detector mounts to your walls and snap them into place. For the entry sensors, attach the mounts to your windows and doors. The entry sensors will then magnetically snap onto the mounts.

The House is in Your Hands
With the eufy Security App, you can manage your home defenses no matter where you are. The entry and motion sensors will instantly send a notification to your phone if they sense anything is amiss. And if your kids or pets have caused a false alarm, you can disable the system with a simple tap.